Fix It Friday
We help your favorite clothes last longer.
Fix It Friday Schedule
Fix It Friday offers basic sewing, mending, and clothing repair at no cost.
Every Friday!

10a- 4p

---

Fix It Friday Repair Shop

---

ISU Office of Sustainability
305 N. School St.
Normal, IL

The Repair Shop is open EVERY FRIDAY from 10a - 4p during the 2023 spring semester, beginning on Friday, January 20th through Friday, May 5th. The shop is closed for spring break on Friday, March 10th and Friday, March 17th.

Friday, February 3

1 - 4p

---

Carle BroMenn Resale Boutique

---

1322 S. Main St.
Normal, IL

Friday, April 14

10a - 2p

---

---

319 W. North St.
Normal, IL

Saturday, April 22: Earth Day!

10a - 2p

---

---

101 E. Vernon Ave.
Normal, IL

Would you like to host Fix It Friday at your location?

---

Email us at: sustainability@ilstu.edu to schedule a Fix It Friday event at your business or organization.
Winner of the Illinois State University Outstanding Service Volunteer Program (2016), AASHE Campus Sustainability Achievement Award (2017) and Illinois State University Team Excellence Award (2019)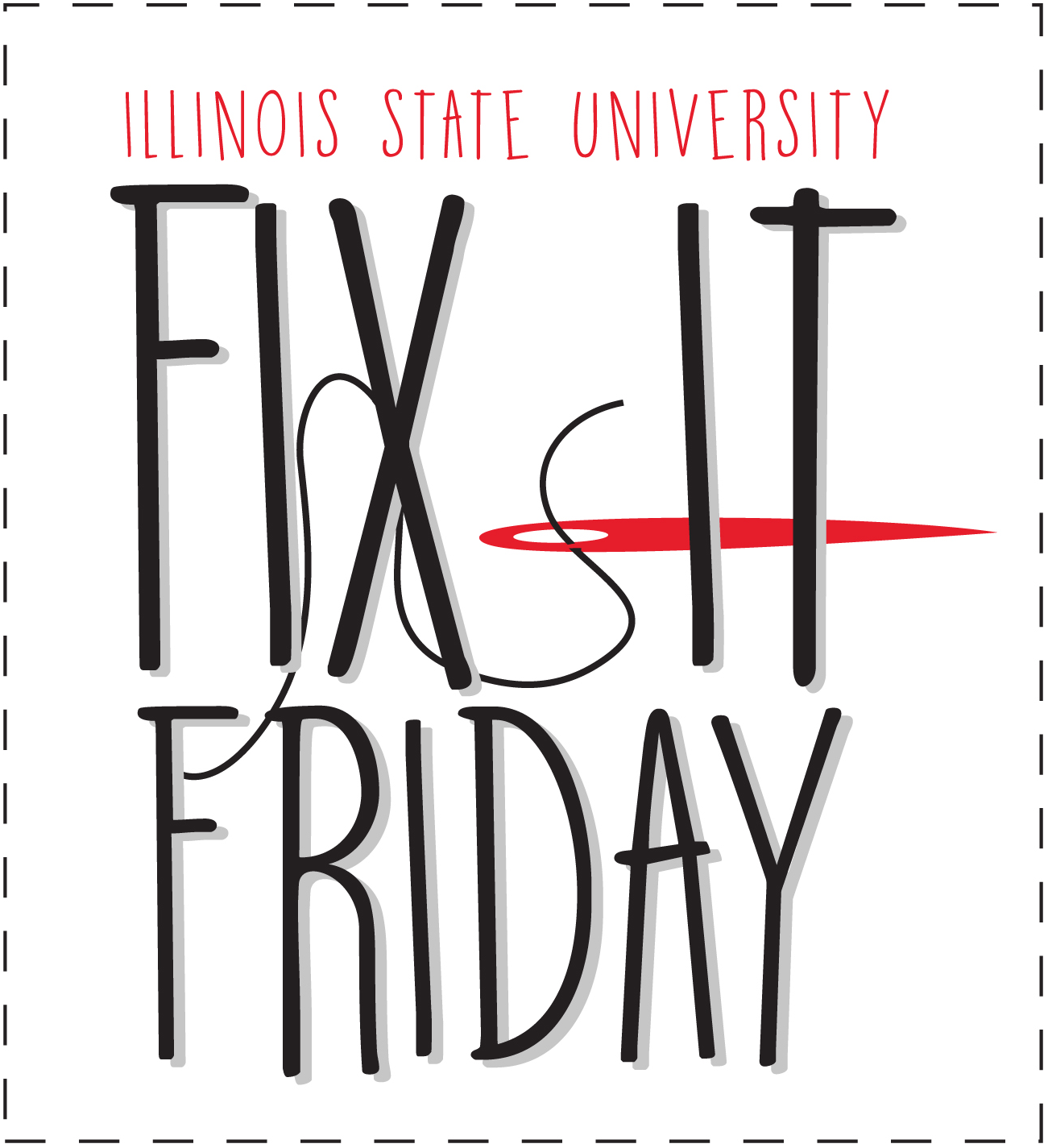 How It Works
Stop by on one of our scheduled dates with an article of clothing in need of a basic fix. Our volunteers will repair it on the spot.
We offer quick repairs such as mending a hole or sewing on a button. We don't do major alterations or repairs, but there are several places around town that can help.
Keep Your Clothes Out of the Landfill
Fashion is a major polluting industry. Fix It Friday helps decrease the amount of clothing and textile waste that end up in landfills. It also reduces the amount of clothing donated to overseas secondhand markets which are detrimental to the environment.
Get Involved
Volunteer

Any Illinois State student can volunteer to be part of a Fix It Friday. All you need is a basic understanding of sewing.

Host Your Own Clothing Repair Event

We're willing and eager to offer our services at your next event.